Keep your Educational Environment Safe and Clean with a Comprehensive
aaqadn
Approach to Disinfection
Utilize the 4 Pillars of UVC Disinfection
UVC is a proven, well researched technology that is recommended by the CDC, WHO, ASHRAE and others. UVC is safe, low maintenance, and affordable.
Why UVC for Schools
UVC has been recognized and referenced as a valuable tool for disinfecting air and surfaces in public spaces since the early 1900's. Using UVC in occupied, and unoccupied spaces can help keep our children, clients, staff, and visitors safe from infectious bacteria and viruses.
Why American Ultraviolet for UVC
Just as we have done since 1960, and as we will always do, during this pandemic American Ultraviolet is serving our clients with superior products at a fair price. We know different schools face different challenges, based on facility age, size, geography, etc. We are the only ultraviolet company able to provide a wide enough range of solutions to satisfy each and every end user need – whether a standard solution, or a custom solution. The use of UVC technology has been around for more than 100 years. American Ultraviolet has been around for more than 60 of them – much longer than any others…and much more experienced than all others.
The American Ultraviolet UVC Comprehensive Approach
Mobile Room Solutions
Mobile UVC disinfection units disinfect contaminated surfaces and air.
American Ultraviolet offers four mobile UVC disinfection units to fit your application. These units disinfect air and surfaces in unoccupied spaces. All units are equipped with 360-degree safety sensors and can be plugged into a standard 120V outlet.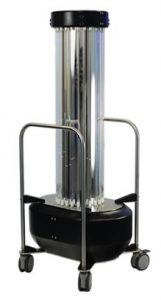 Upper Air Solution
Upper Air UVC disinfection units remove bioaerosols from air continuously in occupied rooms.
The upper air series is designed to bring a safe, effective air disinfection to occupied spaces. These fixtures are selected based on room square footage. They are also easy-to-install and maintain.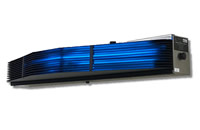 HVAC Solutions
UVC for Heating, Ventilation & Air-Conditioning systems destroys bioaerosols from recirculated air and keeps cooling coils/drain pans free from mold build up.
American Ultraviolet offers multiple products for air disinfection and cooling coil / drain pan cleaning in air-conditioning systems. Product solutions are custom tailored for each application.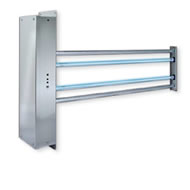 Fixed Mounted Solutions
Fixed-mounted packages disinfect surfaces and air with the flip of a switch or run a preprogramed cycle.
This type of system is designed for unoccupied spaces and eliminates the need for extra labor hours or added employ­ees. The installation of these systems can include a timed switch with occupancy sensors to run an automated cycle overnight or when the space is not in use.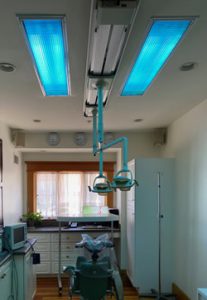 Source: American Ultraviolet (https://www.americanultraviolet.com/germicidal-healthcare-solutions/UVC-solutions-for-educational-facilities.html)
Distributor of American Ultraviolet in Malaysia:
Applied Air Quality Specialists Sdn Bhd
56, Jalan 4, Kawasan Perindustrian Ringan,
Pandan Indah, 55100, Kuala Lumpur.
Hotline: 03 – 4295 3295
Email: enquiry@aaq.com.my