Product Spotlight: Upper Air UVC Fixtures
aaqadn
American Ultraviolet TB (tuberculosis) and CM (corner mount) Series in-room air treatment fixtures are designed specifically for upper-air disinfection.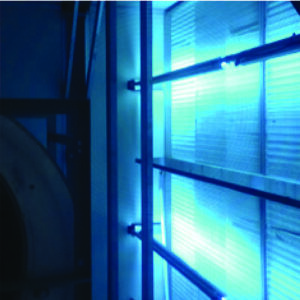 These trusted fixtures have been successfully used to control the spread of airborne microorganisms in private practice, hospitals, prisons, and government buildings, to name a few, since 1960. The germicidal fixtures incorporate adjustable louvers that safely direct UVC energy above contact level (7+ feet) with occupants, ensuring TB and CM fixtures are ideal for air disinfection in occupied rooms.
How does upper-air UVC work?
The UVC lamps create an intense UVC energy barrier zone in the upper portion of the room and, because of the adjustable louver, UVC levels are minimized in occupied spaces in the lower portion of the room. Natural air convection moves airborne microorganisms through this UVC energy barrier and effectively inactivates potential pathogens.
What areas can the upper-air UVC cover?
The TB Series is available in three sizes (providing 100, 200 and 300 square feet of coverage), and operates from 110-277 VAC at 50 or 60 Hz, allowing installation flexibility to accommodate virtually any room or building layout. Multiple fixtures can be used to cover areas larger than 300 square feet. TB Series fixtures are designed for easy access lamp changes – simply unscrew two large thumbscrews on the sides, and drop the hinged louver down for easy lamp access. TB Series lamps are rated for two-year continuous operational life with approximately 20% drop in UVC output at the end of the lamp life.
The CM 15 units are designed to mount in corners of rooms where TB Series units are not desirable. A single CM 15 unit can cover 75-100 square feet, depending on the application. The CM 15 is easily accessed for lamp replacement by simply removing a single fastener on the top of the unit and sliding off the louver. CM 15 lamps are rated for 9,000 hours of effective lamp life (approximately 1 year).
What are the Benefits of upper-air UVC?
Continuously improves Indoor Air Quality (IAQ) by reducing viruses, bacteria and mould spores that grow in, or pass through, the air handling systems. Helps reduce the risk of colds, flu, and allergies.
Two-year (17,000 hours) guarantee on lamps with only 20% decrease in output over the two years (9,000 hours on CM 15 lamps)
Five-year, non-prorated warranty on the ballast
No ozone or other secondary contaminants are produced.
Distributor of American Ultraviolet in Malaysia:

56, Jalan 4, Kawasan Perindustrian Ringan,
Pandan Indah, 55100, Kuala Lumpur.
Hotline: 03 – 4295 3295
Website: www.aaq.com.my
Email: enquiry@aaq.com.my