Four (4) Pillars of UVC Disinfection for Healthcare – Pillar Three
aaqadn
Product Spotlight: Pillar Three – Heating, Ventilation, Air-conditioning (HVAC)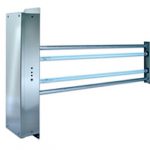 Unfiltered, contaminated air circulating, and re-circulating, through a healthcare facility can be another prime "flashpoint of infection." Though HVAC systems include all the equipment used to ventilate, heat/cool, and humidify/dehumidify, most do not address the disinfection of the air in a facility. Improper operation and maintenance of an HVAC system is one of the most common problems that impact the indoor air quality (IAQ) of a workplace.
The third American Ultraviolet pillar, from the "Four Pillars of UVC Disinfection for Healthcare," consists of equipment that disinfect critical air streams circulating, and re-circulating, throughout healthcare facilities.
Infectious airborne microbiological agents, too small to be captured by filtration, can be disinfected as they pass through the "blanket of UVC energy." Custom sized in-duct UVC systems are one of American Ultraviolet's most popular applications. American Ultraviolet developed dedicated sizing software that allows for the selection of the appropriate UVC dosage levels for air and surface disinfection in-duct, and on the cooling coil. Surface disinfection of an HVAC system is used to help reduce any microbial growth on the internal surfaces of the HVAC system, which includes cooling coils, plenum walls, and drain pans. Air disinfection, also called "on-the-fly" inactivation of microbes suspended in air as they move through the ducting, is currently what most clients are looking for. Good filtration generally removes the larger microbes, like fungal spores, which are more resistant to UVC, while susceptible organisms such as bacteria and viruses are inactivated more quickly.
Following are the most popular American Ultraviolet HVAC solutions: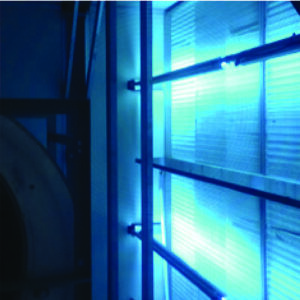 CK Series:
The CK Series is a customer favorite. This series is designed as a modular, highly flexible UVC kit for Air Handling Unit (AHU) installations. The kit is simple to install and can be configured to provide exactly what is needed for a wide variety of AHU installations. The CK Series is flexible enough to get everything needed for almost any UVC application. Standard configurations offer up to 16 lamps, with lamp lengths up to 60″ running from a single electronic enclosure. The CK Series can be supplied with standard, coated, or double-walled cell lamps, based on requirements of the installation. The BMS option allows for lamp monitoring with relay output to a building's central monitoring system to ensure performance.
Learn more about the CK Series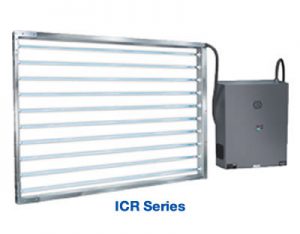 ICR Series:
High-output ICR Series fixtures from American Ultraviolet are designed specifically for HVAC airstream disinfection applications. They are ideal for large air handling systems in commercial, industrial, healthcare, and institutional buildings. These ready-to-install framed structures can be easily mounted in-duct and on-coils to provide the desired airstream disinfection to protect personnel from unwanted bacteria, viruses or fungi travelling through the airstream. ICR Series fixtures not only decontaminate air, but they also use UVC cleansing energy to help remove biofilms from cooling coils and drain pans. The ICR Series can be mounted within minutes to plenum walls, or to frame assemblies that span supply ducts and/or cooling coils. These fixtures are offered in various lamp configurations and come standard in five different widths (18″, 24″, 36″, 48″, & 60″). Frames can be mounted side-by-side or stacked vertically to cover the entire plenum or coil.
Learn more about the ICR Series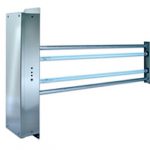 DC Series:
American Ultraviolet High-output DC Series HVAC UVC germicidal fixtures can be mounted in various configurations for optimum pass-by air
decontamination, and/or to irradiate cooling coils and drain pans. Lamps and electronics can be accessed from outside the duct or plenum. "Green" lamps (contain 28mg of mercury) extend inside to span supply ducts and/or cooling coils.
DC Series HVAC air duct system fixtures are offered in two and four-lamp configurations that can be mounted singly, in built-up banks, or in parallel configurations in a variety of locations, including coils, drain pans, ductwork, mixed air plenums and exhaust systems.
Learn more about the DC Series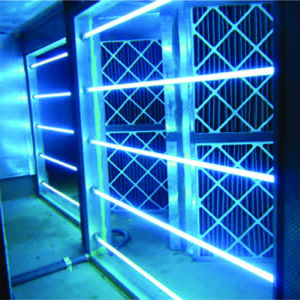 ECO Series:
The Eco Pure series from American Ultraviolet is designed as an economical choice for on-coil use in commercial and residential HVAC systems. Because of a large range of lamp lengths, from 16″ to 60″, ease of installation, and an attractive, cost-effective price point, the ECO Series has quickly become a "go to" choice for many of our customers who use them in a wide range of installations.
Learn more about the ECO Series
Distributor of American Ultraviolet in Malaysia:

56, Jalan 4, Kawasan Perindustrian Ringan,
Pandan Indah, 55100, Kuala Lumpur.
Hotline: 03 – 4295 3295
Website: www.aaq.com.my
Email: enquiry@aaq.com.my