Private Practice and COVID-19
aaqadn
As private practices are opening back up, the need to protect staff and patients from COVID-19 has become a critically important topic for all healthcare providers. Of the many inquiries American Ultraviolet receives each day, the most common statement shared by Doctors and staff, about the most important topic, is "we want everyone to feel comfortable, and protected from COVID-19, as we re-open our clinics."
To date there is no UVC inactivation constant available for COVID-19, however, parallels can be drawn to similar viruses, as stated by the International Ultraviolet Association (IUVA) in a March 2020 publication: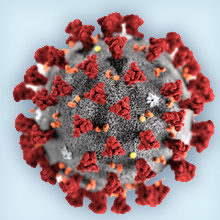 "UV light, specifically between 200-280nm (UVC or the germicidal range), inactivates (aka, 'kills') at least two other coronaviruses that are near-relatives of the COVID-19 virus: 1) SARS-CoV1 and 2) MERS-CoV."
American Ultraviolet uses scientifically established UVC viral, bacterial and fungal inactivation constants to help provide the most cost-effective solution(s) for each individual private practice. Being able to draw from the largest product portfolio of Made in America UVC products has made it "easy" to tailor our UVC products for all applications while remaining considerate of all budgets.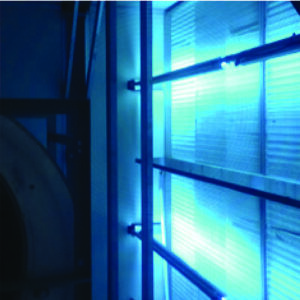 In HVAC units there are two primary applications: airstream disinfection, and surface, or cooling coil disinfection. Air disinfection systems are designed to lower the concentration level, or eliminate airborne pathogens in a moving airstream.
Cooling coil disinfection systems are designed to keep the coil free of biofilm, mold, and slime build up.
In most cases with larger air-handlers adding additional lamps to the coil array will make the system a "dual purpose" system, providing coil and air disinfection. American Ultraviolet utilizes various sizing tools that calculate the required intensity for the coiling coil face and air disinfection applications.
One example is our CK Series, which has been designed as a modular, highly flexible UVC kit for Air Handling Unit (AHU) installations. The kit is simple to install, and can be configured to provide the desired air disinfection and cooling coil solutions for wide variety of AHU installations.
American Ultraviolet offers the most comprehensive UVC disinfection approach toward safeguarding all environments – what we refer to as the Four Pillars of UVC Disinfection.
Having the largest selection of mobile, and surface mounted UVC disinfection solutions, along with upper air in-room disinfection fixtures, and a wide range of UVC HVAC solutions, allows American Ultraviolet to provide each user, at no additional cost, a custom-designed product package for their unique healthcare setting.
The most popular options for smaller private practices, including dentists, respiratory therapists, optometrists, outpatient surgery centers, and daycare centers, have been:
Option 1:CK Series; MRS45-12-P0Z mobile unit; upper air treatment; handheld Blade; UVC Dosimeters
Option 2:CK Series; MRS33-8-P0Z mobile unit; upper air treatment; handheld Blade; UVC Dosimeters
Option 3:Direct Surface Mounted Fixtures; door barrier UVC; UVC Dosimeters
Option 4: CK Series; MRS14 mobile unit; upper air treatment; UVC Dosimeters
Option 5:Handheld Blade; UVC Dosimeters
Option 6:Because there are simply to many combinations to list, please contact us so we can help you find the most appropriate UVC disinfection solution package for your specific environment.
Distributor of American Ultraviolet in Malaysia:

56, Jalan 4, Kawasan Perindustrian Ringan,
Pandan Indah, 55100, Kuala Lumpur.
Hotline: 03 – 4295 3295
Website: www.aaq.com.my
Email: enquiry@aaq.com.my